Sarong: Quick Facts and Information
Sarongs are an essential part of an Asian womans wardrobe.
Sarong or 'Sarung' is a Malay and Indonesian word meaning 'sheath'.
Sarongs are  simply a large piece of fabric that can be used in many ways to cover up the body. Sarongs can be seen as a fashionable piece of clothing which can be both used by men and women. It is a great way to look and stay cool in the warm beach weather.
Sarongs are not only a clothing item, but it can be transformed into many different uses in everyday life. This can include; decorations, tablecloths, curtains, towels, and many, many more. It has become such a universal piece of clothing which is essential in everybody's wardrobe. The sarong is such a versatile piece of material it has made it statement all across the globe.
Origins
Sarongs are a traditional piece of clothing particularly worn by men and women throughout much of the South East Asia, South Asia, and many regions around the Pacific islands. The history of this piece of fabric is said to be dated back for thousands of years but it is said that the sarong had originated from the Malay and Indonesian region. It has become a casual piece of clothing for all men and women of all ethnicities and religion in the specific region.
Sarong Uses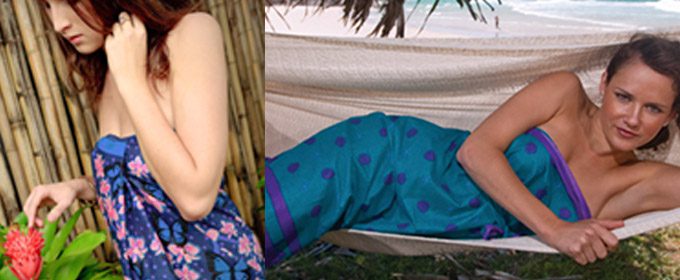 Sarongs can be used in many different ways. Because the sarong is such a simple, yet unique, piece of fabric, it can make anything look sleek and elegant. It is simply up to you, and your decision on how you use it or make out of it. But most importantly, it will protect you from the sun.
Here is a list of the most popular sarong uses:
Skirt
Towel
Turban
Table Cloth
Scarf
Decorations
Curtains
Blanket (Beach/Picnic use)
Toga Dress
Fabric
The Modern Sarong
Wearing a sarong at the beach is growing fashion trend around the world. It is an essential item to have in the hot or warm summer weather.
It can be worn at home, going to the shops, at the resort and making everyday life a little more comfortable. Nowadays sarongs can be worn on special occasions, which can be transformed into an elegant dress, skirt or top, which will go perfect in a pair of high heels.
For women, the sarong can show off the body's sleek elements and will wrap around the graceful curves.
Sarongs still remain a stylish fashion piece even in today's modern society. The sarong is growing to be an everyday item suitable for all occasions, for everyday use and everyday life.
How should I wear a Sarong?
There are countless ways to tie on a sarong. Here is a quick tutorial video on 'How to tie a sarong or pareo'.
Also, here are some step by step guides on how to tie a sarong or pareo:
– Gathered Knot sarong style
– Halter Neck Knot sarong style
– Front Knot sarong style
– Traditional Indonesian Knot style
– Front Knot sarong style.
Want to know a great beach to wear a sarong? Check out our Top list of U.S beaches perfect to wear a sarong.